Janice & Gilliland Family Genealogies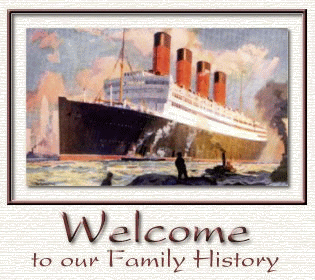 In all of the above-listed web pages, specific details for living individuals have been suppressed.
Higher resolution images of most of the pictures displayed on the family pages are freely available upon request. To see these, and more, pictures immediately please visit pics.janicefamily.net (a new browser window will open).
These pages represent my attempt to record the histories of our families both here, in the United States, and in Poland. All errors and omissions are strictly mine and my responsibility.

I would like to dedicate these pages and this research to my mother Halina Stanislawa Kaminska, and to my father Leon Peter Janice, and to my wife's father and mother Eldon Ernest Gilliland and Charlotte Beth Martin - they are all missed.

I would like to extend my appreciation to Tadeusz Wysocki from RootsPoland.com and Zenon Znamirowski from PolishOrigins.com for their invaluable assistance and patience in helping me locate my Polish roots. I whole-heartedly recommend these fine gentlemen to anyone doing research in Polish genealogy or wishing to travel to Poland "to find their roots". See below for direct links to their websites.


I would also like to extend a special "thank you" to Mr. Fred Cyran who provided invaluable assistance by thoroughly documenting the immigration of numerous citizens of Budziwój, Poland to the United States, and freely sharing his work and data.

If you notice any errors or ommissions on these pages, or wish to contact me for any other reason, please click here to send me email.


I would like to thank my wife, Rhesa Gilliland Janice, for marrying me and for her years of patience with me; my oldest son, Brian Michael Janice, for his assistance in developing this website; my daughter, Laura Shannon Janice, for going with me to cemeteries and being supportive of my "hobby"; and Joseph Eldon Janice, my youngest son, for being so proud of his Polish heritage.

To perform a more advanced search of this entire website for a specific word or phrase click here.

To view additional family pictures of genealogical interest and also of the beautiful cities and countryside of Poland please visit pics.janicefamily.net (a new browser window will open). While there, "clicking" on a picture will display that picture at a higher resolution which will then be available for downloading. All pictures are freely available to everyone. A small random picture is shown below.


To view a short (10 minute) video about immigration from Eastern Europe to America in the early 1900s click here. [If the video does not play correctly make sure that you have Windows Media Player configured to display ".asf" files.]

Did you know that four out of ten Americans have an immigrant ancestor who came through Ellis Island? Learn more facts, listen to first-person accounts, view photographs, and find out what the journey through Ellis Island was like by visiting the interactive Ellis Island Experience now available at Scholastic.com.

If your family roots can be traced through Ellis Island, please help to preserve this great American historical site by visiting Save Ellis Island and donating what you can. The organization's stated mission is "To raise the funds necessary to rehabilitate, restore and put to beneficial reuse the currently deteriorated and unused buildings of Ellis Island, located primarily on its south side."
Below are several links to web pages for cities and locations, in both the United States and Poland, that have figured predominantly in our family history:
| | |
| --- | --- |
| United States | Poland |
| Brooklyn, New York, USA | Budziwój, Poland |
| Watervliet, New York, USA | Tyczyn, Poland |
| David City, Nebraska, USA | Raciaz, Poland |
| Lincoln, Nebraska, USA | Warsaw, Poland |
| Princeton, Kansas, USA | Kraszewo Gaczulty, Poland |

Here you can download "PDF" files of the family histories listed above. You will need the freely available Adobe Acrobat Reader installed on your computer in order to view these files.



If you are in need of help in finding your Polish ancestors or having someone conduct research for you in Poland, please do not hesitate to visit either of the following websites. I have used both in the search for my "Polish Roots" and can personally vouch for Zenon Znamirowski and Tadeusz Wysocki in their business dealings. You will be treated fairly and with respect . . .



A new surname database has recently been made available on the PolishOrigins website. The main goal of the database is to make it possible for everyone to search for people who are interested in the same surnames and to enable the exchange of information and findings. Additionally a second database for places (towns, villages, cities) of interest is now up and running. To directly access the databases visit the homepage of PolishOrigins or use this link for the surnames database and this link for the places database.
Another NEW feature has been added to the PolishOrigins website!! The ability to search for and have automatically translated, from Polish to English, results from four comprehensive Polish genealogical databases. Here is a quote from the website that explains the new feature in more detail:
"We have developed the Polish Genealogy Databases tool to allow you to access the increasingly rich Polish genealogy resources available online and understand (or at least "get the gist of") the content, all by entering a keyword (surname, place) and clicking on "search."

Our tool is based on the free Google search and translation services. If the website where your search results are available is in Polish, it is automatically translated into English by Google. All the results, as well as content, are then displayed in English in a new tab (or window) in the original source website. We will gradually add the most useful and valuable databases and websites related to the broad subject of Polish genealogy."

The following genealogy web pages were created with the assistance of the outstanding software program "Legacy Family Tree" from Millennia Corporation

Click the above link to download your FREE copy . . .







Last modified Thursday, 14th February, 2013 @ 09:14pm